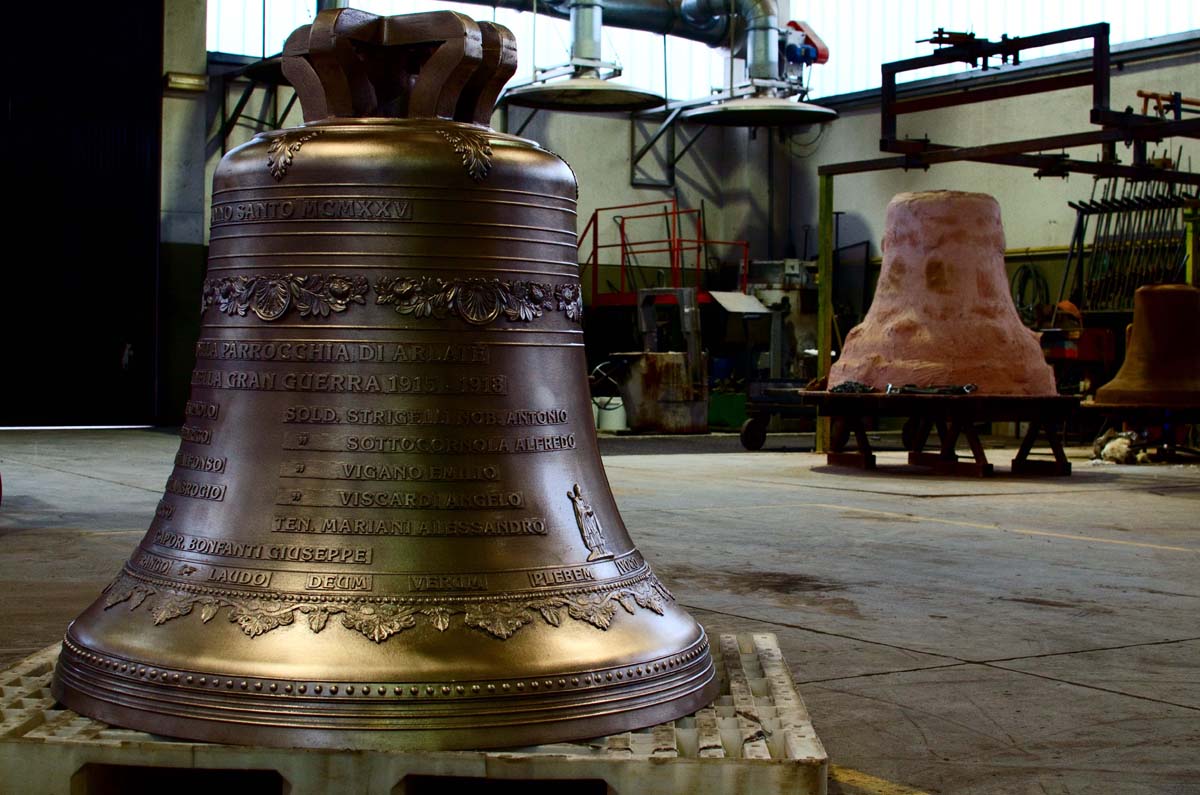 Products - BELLS
Ecat Campane is more than a brand among many brands.

Its name represents a value system that determines the design of all of our products.

ECAT campane meets the needs of its customers and produces musical instruments in order to satisfy them.

Our goal is to surprise and gratify by providing more than expected.

How do we manage? Through a particular care designing bells that represent both aesthetic excellence of the melting and the state of the art of intonation.
In 2006 Ecat Orologi celebrated its tenth anniversary, in 2011 the fifteenth, and the celebrations to commemorate twenty years draw near. Years of dedication to excellence in the design and strive for perfection.
Ecat Orologi is more than a brand name amongst many: itsí name contains a set of values that guide the design of all our products.
Ecat Orologi listen to their customers to understand their needs and to create musical instruments to measure. Our goal is to surprise and satisfy the customer by offering more than they expect. How do we do it? Through constant attention to "designing with art", that is to create bells that are able to offer a perfect merger between the aesthetic excellence and the state of art of the sound.
Always this is our modus operandi, since Ecat Orologi was founded on 3rd May 1995 incorporating another foundry, '"Old Foundry Achille Mazzola since 1404." After only a year, our first bell was cast, and with the passing of the years, the level of technical perfection, casting and sound achieved proves that in order to do things right it is essential to have passion and not centuries ...
Year after year Ecat Bells continues to develop and strengthen itsí name producing bells harmonizing technology and craftsmanship with winning results. Our engineers and technicians are well aware that the bells are not just objects to produce, but musical instruments and works of art at the same time. For this reason Ecat Orologi, as an expert craftsman, creates bells with a recognizable personality that through their chimes reach the the heart of the listener.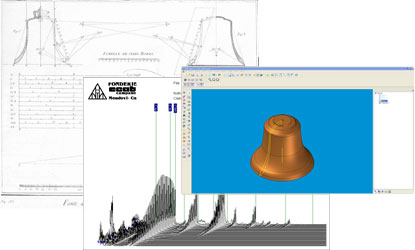 For Ecat Bells, create innovating is a habit. The future is our inspiration: thanks to our open-mindedness and the continuous search for innovation, we head towards new horizons and professional challenges of new emotions to enrich the world of bells.
Our philosophy is very simple: to perfect this work of art that is a bell through an absolute symbiosis between aesthetic excellence and sound perfection, obtained by using state-of-the-art technologies. The innovative foundry techniques to controlled filling, the buttresses made with the new polymers chemicals ensure the ideal ratio, that remains constant between the material purity and perfection of form, giving at the same time the maximum freedom of design. So it was when we made the first steps, so it will be in the future.
Bells for churches
Ecat Orologi is a foundry dedicated to the casting of bronze bells. We cast bells of any weight or tone; individual bells to integrate and harmonize with others or antique bells remaining totally faithful to the original in form, decoration and timbre.
The bells are built with the highest attention to detail, with extreme care of the images, writing and the decorations, because for us each bell is unique and unrepeatable.
Our goal is to modernize the production system combined with traditional construction systems of bronze bells.
Carillon Bells
The bells in carillons are used to perform concerts or music combined with the striking of the hour.
The carillon, real instruments in concert, are typically made up of musical octaves or multiple octaves. They are used as ornaments, folklore or in places of tourist interest because they create an atmosphere of celebration and friendship. The carillon bells, unlike those for churches, are fixed and are anchored directly to the frames through a central hole. They can be played manually or accompanied by an elettrohammer for the automatic sound. The carillon bells are usually undecorated and have a different shape from those for churches: the quality of the music is superior.
Bells for churches
CODE
TONE
ANGLO-SAXON TONE
DIAMETER (mm)
WEIGHT (Kg)
BLL0504018
SOLb
Fis0
1995
4900
BLL0504019
SOL
G0
1880
3900
BLL0504020
LAb
Gis0
1775
3300
BLL0504021
LA
A0
1675
2800
BLL0504022
Sib
Ais0
1580
2300
BLL0504023
SI
B0
1495
1950
BLL0504024
DO
C1
1410
1680
BLL0504025
Reb
Cis1
1330
1400
BLL0504026
RE
D1
1255
1200
BLL0504027
Mib
Dis1
1185
870
BLL0504028
MI
E1
1120
810
BLL0504029
FA
F1
1060
680
BLL0504030
SOLb
Fis1
1000
550
BLL0504031
SOL
G1
945
480
BLL0504032
LAb
Gis1
890
410
BLL0504033
LA
A1
840
340
BLL0504034
Sib
Ais1
795
290
BLL0504035
SI
B1
750
245
BLL0504036
DO
C2
705
200
BLL0504037
REb
Cis2
665
170
BLL0504038
RE
D2
630
140
BLL0504039
Mib
Dis2
595
120
BLL0504040
MI
E2
560
100
BLL0504041
FA
F2
530
85
BLL0504042
SOLb
Fis2
500
72
BLL0504043
SOL
G2
470
60
BLL0504044
LAb
Gis2
445
50
BLL0504045
LA
A2
420
43
BLL0504046
SIb
Ais2
400
37
BLL0504047
SI
B2
375
31
BLL0504048
DO
C3
355
26
BLL0504049
REb
Cis3
335
22
BLL0504050
RE
D3
315
19
BLL0504051
Mib
Dis3
295
16
BLL0504052
MI
E3
280
14
BLL0504053
FA
F3
260
12
BLL0504054
SOLb
Fis3
250
10
BLL0504055
SOL
G3
240
9
BLL0504056
Lab
Gis3
225
8
BLL0504057
LA
A3
210
7
Carillon Bells
CODE
TONE
ANGLO-SAXON TONE
DIAMETER (mm)
WEIGHT (Kg)
BLL1504024
DO
C1
1515
2150
BLL1504025
Reb
Cis1
1430
1800
BLL1504026
RE
D1
1345
1500
BLL1504027
Mib
Dis1
1270
1250
BLL1504028
MI
E1
1200
1060
BLL1504029
FA
F1
1130
905
BLL1504030
SOLb
Fis1
1070
765
BLL1504031
SOL
G1
1010
640
BLL1504032
Lab
Gis1
950
540
BLL1504033
LA
A1
900
455
BLL1504034
Sib
Ais1
850
380
BLL1504035
SI
B1
800
320
BLL1504036
DO
C2
755
265
BLL1504037
Reb
Cis2
715
220
BLL1504038
RE
D2
675
185
BLL1504039
Mib
Dis2
635
155
BLL1504040
MI
E2
600
132
BLL1504041
FA
F2
572
115
BLL1504042
SOLb
Fis2
547
100
BLL1504043
SOL
G2
523
90
BLL1504044
LAb
Gis2
500
80
BLL1504045
LA
A2
477
70
BLL1504046
SIb
Ais2
456
64
BLL1504047
SI
B2
440
59
BLL1504048
DO
C3
425
54
BLL1504049
Reb
Cis3
410
49
BLL1504050
RE
D3
396
45
BLL1504051
Mib
Dis3
382
41
BLL1504052
MI
E3
368
37
BLL1504053
FA
F3
355
34
BLL1504054
SOLb
Fis3
342
31
BLL1504055
SOL
G3
329
28
BLL1504056
LAb
Gis3
317
26
BLL1504057
LA
A3
305
24
BLL1504058
SIb
Ais3
293
22
BLL1504059
SI
B3
282
20
BLL1504060
DO
C4
271
18
BLL1504061
Reb
Cis4
262
17
BLL1504062
RE
D4
254
16
BLL1504063
Mib
Dis4
247
15,5
BLL1504064
MI
E4
240
15
BLL1504065
FA
F4
235
14,5
BLL1504066
SOLb
Fis4
230
14
BLL1504067
SOL
G4
225
13,5
BLL1504068
Lab
Gis4
220
13
BLL1504069
LA
A4
215
12,5
BLL1504070
Sib
Ais4
210
12
BLL1504071
SI
B4
205
11,5
BLL1504072
DO
C5
200
11