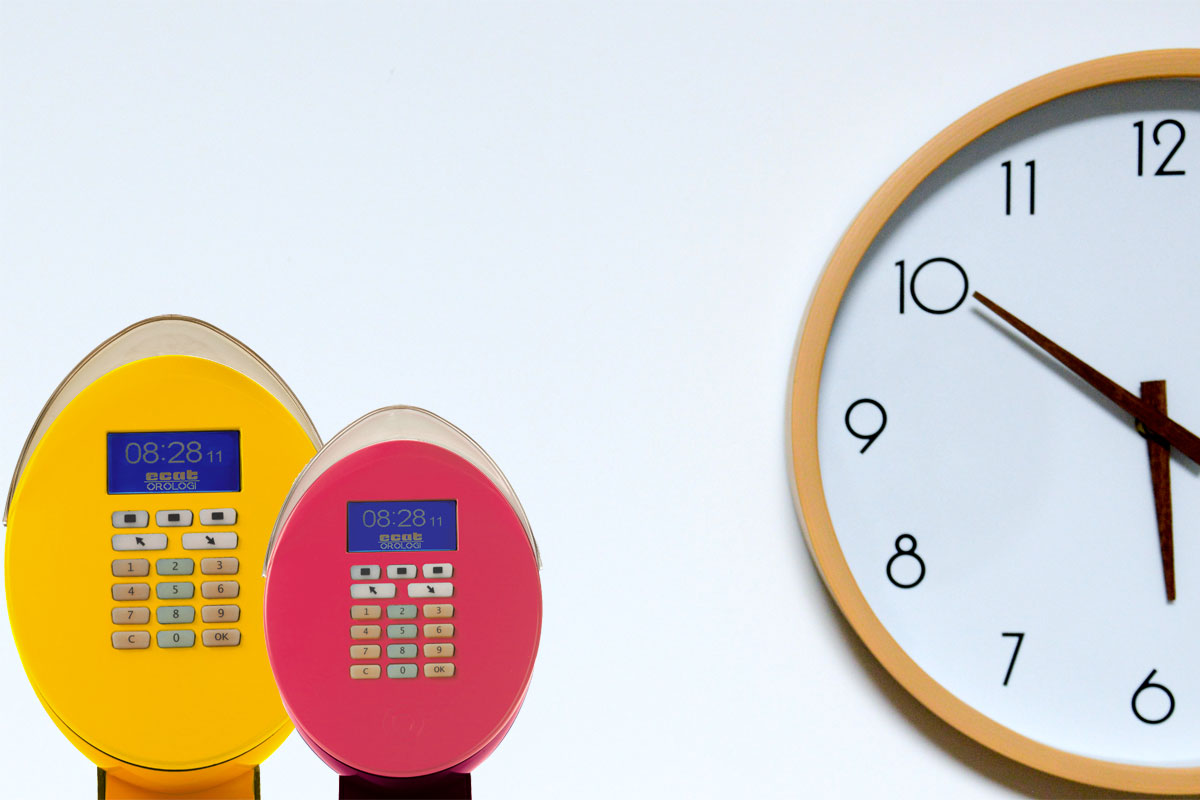 OVO: Track Your Time
Simple, flexible, economical
The Ovo terminal is a flexible, economical solution with a refined design, and can facilitate work management operations at a competitive cost.
Ovo enables data transfer via memory cards, USB and RS232 ports. It is equipped with a proximity badge reader, preventing wear and damage to the cards and to the terminal itself. Choose the version that best suits your needs: Ovo Full or Standard.
Consult the technical features for details on the various different functions.
Save on costs and Track Your Time.
OVO TIME CLOCK
OVO STANDARD EDITION
(TERMINAL + SOFTWARE)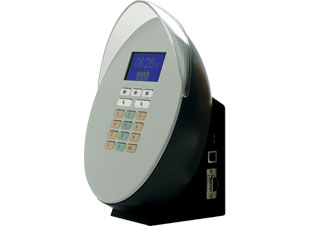 OVO time clock Standard Edition: attendance monitoring with hour "totaliser" (calculator). Odd time stamps, "totaliser" card printing. Including 2 months of remote assistance and maintenance after installation. Easy to operate and ready to use.
OVO FULL EDITION
(TERMINAL + SOFTWARE)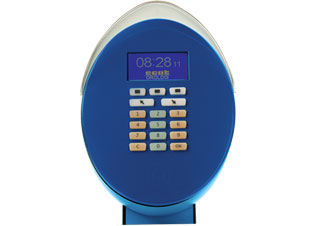 The Full Edition version includes a number of advanced options: multi-company attendance monitoring, video monitoring of anomalies, data archiving for work analysis purposes, client-server configuration and the ability to export data to the most widely used payroll management programmes.
OVOo'CLOCK
SOFTWARE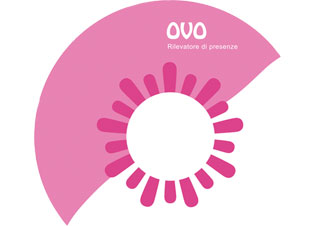 The OVOo'Clock Software meets the requirements of small and medium-sized enterprises with a maximum of around 200 employees , and also has specific features for implementation in public administration applications . The following work schedule types are available for each employee: fixed schedule, fixed with tolerances, flexible, super-flexible (only working periods without specific schedules), daily or weekly schedules, shifts (not sold individually).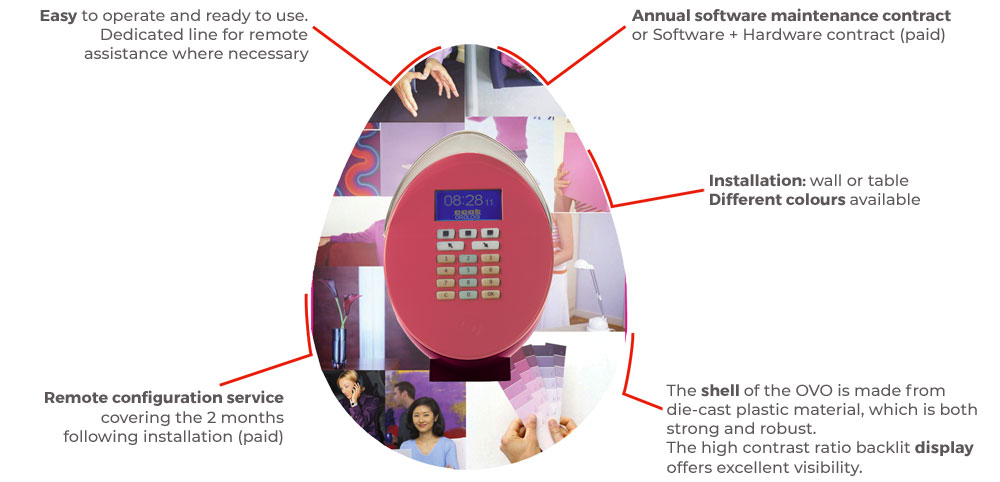 TECHNICAL SPECIFICATIONS
Multi-point network terminal
Data collection via USB - RS232 - MEMORY CARD connection
Memory space for 21,000 time stamps with 10 years data retention without power supply
Attendance monitoring via contactless transponder
Synchronisation device with DCF77 radio signal (optional)
GPS satellite synchronisation device (optional)
Mains supply 110-220 Volts of AC power
Dimensions: L 150 H 220 D 125 mm
Minimum requirements: Hardware: PC 512 MB of RAM
Software: Windows XP SP3 or later
Functions
Ovo Standard Edition
(Terminal + Software)
Ovo Full Edition
(Terminal + Software)
Management of daily schedules
Single schedule
Multi-schedule
Shift management
Management of weekly schedules
Management of records
Assignment of multiple schedules to employees
Work plan management
Management of anomalies
Odd time stamps
Complete management
Automatic management of justifications
Management of absences and holidays
Configured for PAYROLL EXPORT (Zucchetti, Lira, Osra, Inaz, Job Time)
Configured for custom schedule processing/ report operations
Stamps
Printing of "totaliser" cards
Customisable complete management
RELATED PRODUCTS
Customisable OVO badges (colour, company logo or photo)
Badge holder box
Ethernet module
WiFi module
Audible tone module
Click on one of the following links to discover the OVOo'CLock software, or visit our YouTube channel